The Lifetime ISA - is it right for you?
The Help to Buy ISA was introduced back in 2015 and was designed to assist first time buyers with saving for their deposit and getting their foot on the property ladder. With the government adding a 25% bonus on top of the ISA savings, choosing a Help to Buy ISA has been a no brainer for savvy first time buyers. However, from the 30th November 2019, new savers will no longer be able to register for a Help to Buy ISA and this has left many looking for other options in the search for a 25% bonus to put towards their deposit.
Thankfully, all is not lost, as first time buyers can also benefit from a 25% bonus to their savings by opening a Lifetime ISA (or LISA). The LISA was launched in 2017 and offers those aged 18-39 the chance to save for their first home, or alternatively for retirement. However, there are some key differences between the two ISA's so it is important to understand these before choosing which one may be best for you.
Advantages of a Lifetime ISA
You can save more money annually compared to the Help to Buy ISA, with up to £4,000 allowed to be saved per tax year.

The maximum house purchase price is £450,000, compared to £250,000 with the Help to Buy scheme (with the exception of London)

You can pay in lump sums compared to restrictive maximum monthly payments with Help to Buy

The LISA bonus is paid monthly (so you'll earn interest on your bonuses as well as your own money), whereas interest for the Help to Buy ISA is paid yearly on your savings only
Disadvantages of a Lifetime ISA
Savers can only open a Lifetime ISA between 18-39, whereas a Help to Buy ISA is open to anyone over 16

You need to have the Lifetime ISA for a minimum of 1 year before using it against a house purchase, compared to only 3 months with the Help to Buy ISA

Unlike a Help to Buy ISA, there is a 25% penalty to withdraw your funds from a LISA if you use it for any reason other than those specified

Most Lifetime ISAs are of the stocks & shares variety meaning you won't get a set interest rate and there is a risk of losing money due to the unpredictable nature of the stock market
Whether a Help to Buy ISA or Lifetime ISA is better for you will depend on your individual situation. But remember, you only have until the 30th November 2019 to apply for the former if that option is right for you.
In the U.K. the average age of a first time buyer is 33, which has risen from 31 ten years ago. With the Lifetime ISA being the only available option come November 30th, we've taken a look at how it could benefit someone opening an account at the age of 18, saving the maximum amount and purchasing their first home at 33.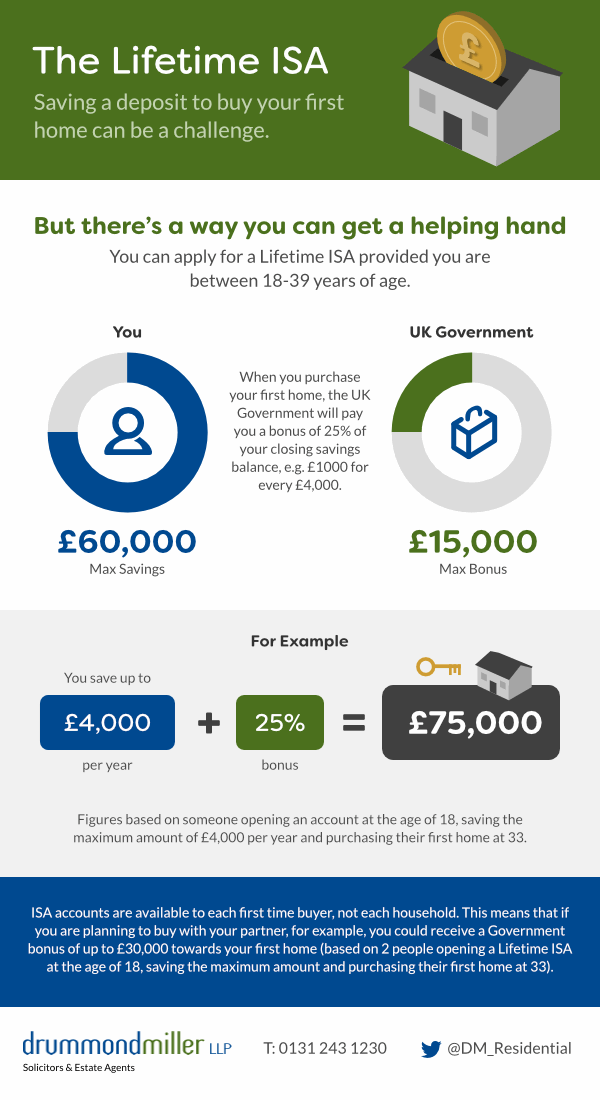 If you are a first time buyer and are looking for help and advice when it comes to making that all important first purchase, get in touch with our property team today.